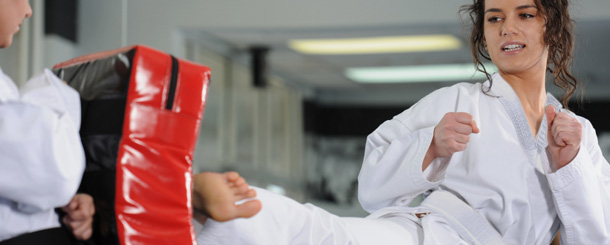 Kickboxing is a high-energy fitness style based on martial arts self defence. If you want a more challenging, more active, more focused workout than the usual gym routines, all the cardio benefits of kickboxing are available from learning martial arts.
Action-packed kickboxing fitness
BTC has classes from beginner to advanced levels in combat martial arts styles with all the exciting features – and fast results – as kickboxing.
Our beginner mixed martial arts, or MMA, and Taekwondo classes require no experience. From your first session, you will enjoy all the action – and the moves – of kickboxing. Each of these popular martial arts styles tones the body using fast kicking and punching moves that also require a powerful mental focus.
Who trains at BTC?
BTC members and martial arts students are people just like you, who want to get fit on their feet in a fun and motivated group. No prior martial arts training or flexibility is necessary to begin kicking and punching your way to cardio fitness – fast.
BTC students and members are accountants, secretaries, plumbers, students, mums, managers, doctors, builders, sales consultants and more. Anyone can get fit and learn kickboxing-style self defence from Taekwondo and MMA.
Why get fit at BTC?
Classes for everyone
Expert trainers
Matted, air conditioned facilities
Onsite gym
90 weekly classes
Our seven-day timetable of 90 weekly martial arts classes in total means you'll find a convenient training time to suit your busy schedule. It's easy to fit in a make-up class so your training won't be affected if you need to miss a lesson.
Book a FREE trial class
The best way to find out if a kickboxing-style martial arts training suits you is to try it.
Call our friendly staff on 3177 4550 or use our online form to contact us and we'll call you to arrange a free class.