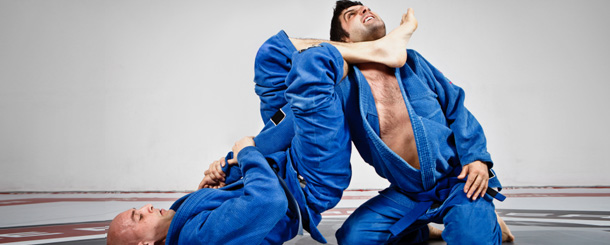 Are you ready for endurance fitness?
If you want to really test your stamina with a new and exciting sport, try mixed martial arts training, or MMA. MMA Training is for those who are ready for a fitness challenge that combines all of the best martial arts techniques into a total mind and body workout.
At BTC's MMA training you'll learn the special high-performance skills of Brazilian Jiu-Jitsu (BJJ) and Taekwondo in an air-conditioned studio that's dedicated to martial arts training.
Why choose BTC for MMA Training?
[expand title="Classes for all skill levels" tag="h4″] You need no prior experience or set fitness level to learn mixed martial arts as a beginner student at BTC. [/expand] [expand title="Expert trainers" tag="h4″] At BTC you learn MMA from passionate and
qualified martial arts trainers
. Our instructors are experienced Black Belts, competitors, tournament judges and referees who bring a world perspective and global experience to your training. [/expand] [expand title="Professional standard facilities" tag="h4″] The BTC studios are purpose-built for martial arts. Overall, we teach eight combat disciplines in air-conditioned comfort. Our rooms are not multi-purpose halls shared with other users; they are permanently set up and ready to go. There's always enough space and equipment for every MMA student. There's no sharing facilities or waiting for your turn during class time. [/expand] [expand title="Onsite gym" tag="h4″] BTC members boost their fitness at our
fully-equipped onsite gym
. Here you can exercise in a friendly and familiar environment with other students. Take a workout before or after MMA training, or visit the gym any time between sessions to cross-train, for even faster results. [/expand] [expand title="90 weekly classes" tag="h4″] Our seven-day timetable of 90 weekly martial arts classes in total means you'll find a convenient training time to suit your busy schedule. It's easy to fit in a make-up class so your training routine and progress won't be affected if you need to miss a lesson.
[/expand]
Book a FREE MMA Training class
The best way to decide if MMA Training is right for you is to try it. Call us now on 3177 4550 or complete our online form to book your FREE trial MMA class at BTC.