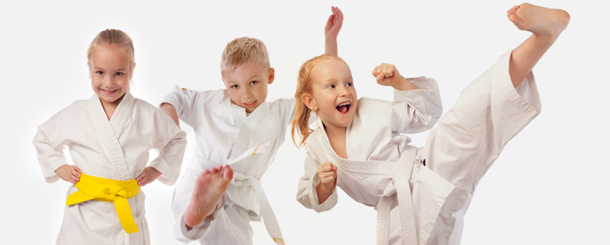 Not sure your child is ready for martial arts classes? BTC offers a chance for your child to try Taekwondo before making any time or financial commitments. We also understand that if children are excited about a new and challenging activity, they are an open book for growth and want to come back for more.
Growing Children in Mind and Body
BTC offers a fun, energetic and safe atmosphere while staying committed to teaching children about being strong in mind and body. The benefits of Taekwondo for children go way beyond self-defence.
Studies show that children grow academically, as well as physically and mentally when practicing martial arts. It's probably the best after school activity around. Physically your child will learn to be fit, agile and coordinated. Taekwondo is a tremendous standalone fitness program as well as excellent cross training for other sports.
Taekwondo teaches the principles of courtesy, integrity, perseverance, self-control and indomitable spirit. Our young students learn life skills that help them navigate through school and beyond.
Kids' Class Instructors
BTC Taekwondo Instructors have taught in Korea (the home of Taekwondo), hold black belts in a number of martial arts, serve on Taekwondo the State & National governing bodies and love what they do. Even with all their formal training and practice, they are nurturing and fun mentors.
Our instructors' enthusiasm for teaching Taekwondo is contagious: just ask our kids. They never get tired of watching Instructor Will's aerial kicks. Their nurturing and easygoing approach will keep your child interested so they can reach their full potential.
BTC requires their children's martial arts class instructors to undertake special training to ensure they bring out the best in each student. Our number one priority is to see your child succeed.
Read more about our Taekwondo Instructors here.
Age Appropriate Classes
It's important to keep our younger students motivated by providing age appropriate excitement and challenges in every class. For example, our Little Samurai Program is loaded with games and has a Buddy System, so your child is having fun and feeling comfortable, as well as making new friends.
Our children's Taekwondo groups include:
Taekwondo Foundations – 3 to 4 year olds
Little Samurai Program – 4 to 6 year olds
Black Samurai Program – 7 to 12 year old
Taekwondo for Teens
Leader Program – 10 -14 year olds
Kick Start Introductory Program
This lesson provides a basic introduction into Taekwondo. We also chat with you to work out the best classes for your child based on their confidence, attitude, coordination and goals, and answer any questions you may have.
A private lesson in a relaxed and comfortable atmosphere at their own pace
A uniform so they'll feel part of the action right from the start
Individual assessment and much more
No prior fitness or experience is needed. Book an introductory class for your child today.
[contact-form-7 id="208″ title="Contact Form"]